The Honey Beauty Collection
Discover our Latina-owned brand's beauty secrets with honey-infused hair care that shines and supports sustainability. Our products promote healthier hair and a greener Earth by dedicating to saving the bees. In the heart of New York, experience the luxury of eco-conscious beauty, where style meets environmental consciousness. Join us in redefining beauty with purpose.
A Simple Haircare Routine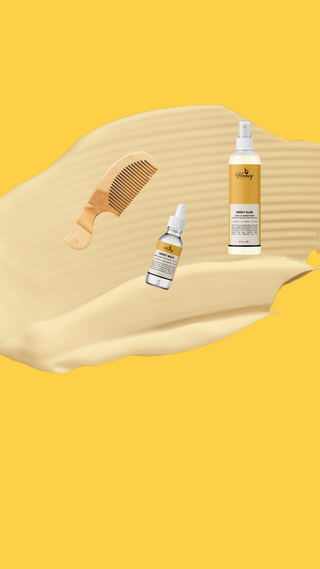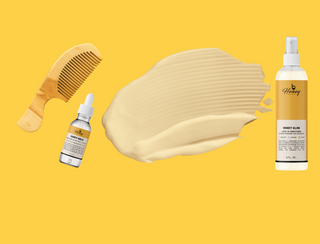 Step 1 Cleanse
Get to know your hair! Cleanse your scalp and strands based on your daily activities suggest once a week max twice. Product buildup from gels, edge controls, and other styling products can make it harder for hair to grow, so getting a deep cleanse is extremely important!
Step 2 Treat with Love
Apply Honey Gold hair elixir can be used on cleansed wet hair, in between days, and a treatment before wash day. Formulated with castor oil, peppermint oil, and honey to stimulate your scalp massages and strengthen hair follicles! Apply the liquid gold, twice daily to the scalp and gently massage with your scalp massager for ideal results.
Step 3 Moisturize
Juicy strands are essential in retaining the length of your hair. Lack of moisture leads to snags and splits in the hair shaft, which compromises growth. Styling and environmental factors both contribute to dry hair so be sure to replenish your hair with nourishing products like our Honey Glow leave in conditioner. A healthy hair regimen definitely includes a moisturizer. Honey Glow, our lightweight moisturizing leave-in conditioner, replenishes moisture in the hair shaft before styling. Honey Glow is a botanical-infused formula that will help hydrate, define, lengthen, and strengthen your hair. Also, providing amazing slip for all hair types and textures as a detangler and serving as an amazing heat protectant from hot hair tools and sun heat.
"After transitioning and doing a big chop, ive been using these products and my hairs been slaying. Im allergic to tree nuts so its been very hard to find products but this product is nut free and leaves my hair with a shiny touch."
– A.S.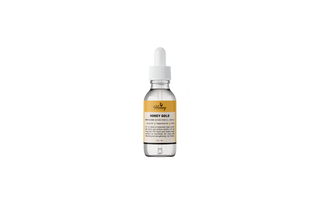 "Best hair products on the market Literally so happy with the Honey Beauty products. It feels great knowing I'm using natural products with ingredients that are actually healthy for my hair. On top of my hair looking beautiful it smells soo good!"
– .M.